Macarons
FIRST PRIZE WINNER
Royal Adelaide Show 2019
Megs Makes macarons are a sweet little biscuit of perfection using the Italian Meringue method. They contain Almond meal, icing sugar, egg whites and a sugar syrup. Macaron shells are Gluten Free.
Shells can be coloured, flavoured and sandwiched with Buttercream, Cream Cheese Frosting, Curd or Ganache - depending on your taste and overall desired flavour.
Macarons are made to order and are priced at $30 per dozen. A minimum quantity of 2 dozen per order applies.
Please be sure to order at least 2 weeks in advance.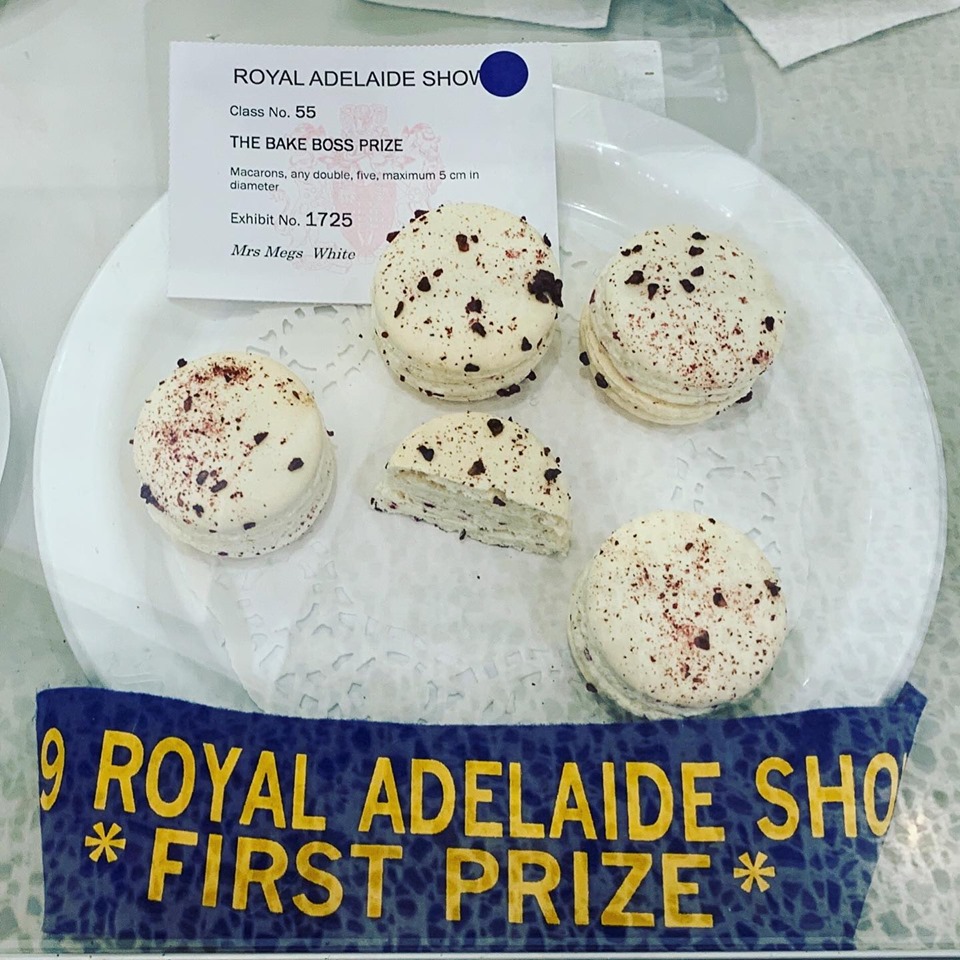 Macaron Tower
Price: $100
3 dozen macarons in your choice of up to 3 different flavours.
Presented in your own Macaron Tower to keep.
Flavour Inspiration:
White Chocolate + Raspberry: FIRST PRIZE @ 2019 Royal Adelaide Show - White macaron with freeze dried raspberries baked into the shell. Whipped white chocolate ganache with freeze dried raspberry filling. This is Meg's Fave!
Galaxy: Marble effect macaron shell with black, pink and purple, filled with Redskin ganache
Pavlova: Macaron shell sprinkled with freeze dried raspberries, filled with passionfruit infused buttercream and home made kiwi jam.
Choc Mint: Peppermint flavoured macaron shell with Dark Chocolate Mint Ganache filling
Salted Caramel: Caramel coloured macaron shell with fluffy Salted Caramel filling
Red Velvet: Chocolate flavoured macaron shell filled with Cream Cheese frosting
Passionfruit: Passionfruit flavoured shell with Passionfruit curd and white chocolate ganache
Strawberries and Cream: Strawberry flavoured macaron shell filled with Strawberry flavoured cream cheese frosting
Blueberry Cheesecake: Blueberry flavoured macarons shells filled with Blueberry Jam and cream cheese frosting
Coffee: Coffee infused macaron shell with coffee flavoured Buttercream filling
Turkish Delight: Rose Water flavoured macaron shell with whipped dark chocolate ganache and home made Turkish Delight in the centre.
Chocolate Indulgence: Chocolate flavoured macaron shell with whipped dark chocolate ganache centre.